Erickson's Antique Stoves

2 Taylor Street, Littleton MA, 01460




2 Taylor Street, Littleton MA, 01460

The Boston Globe - This Old Flame

By Kathleen Burge

January 9, 2011

In November 2009, "America's Test Kitchen'' host Chris Kimball and his staff took on a culinary adventure: They re-created a 12-course Christmas dinner originally hosted by Fannie Farmer, Boston's famed Victorian cookbook author.

At the center of the endeavor, which took four days to cook in heat so blazing that the director's pants began to melt, was a wood-fired stove. 
Read more...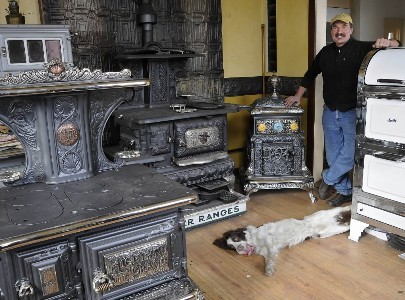 Mark WIlson / Globe Staff

The Boston Globe - Antique's versatility conquers convenience

By Andrea Pyenson

March 16, 2011

LYNN — When John Buscemi talks about his dual-fuel range, he doesn't mean one of the modern, high-end, gas cooktop-electric convection models. Buscemi's cooker, a cast-iron Gold Medal Glenwood, is powered by gas and coal, and it was the top of the line about 100 years ago.

When he renovated the kitchen in the Victorian house he bought in 2009, Buscemi, who provides historically accurate fabrics, wallpapers, carpets, and trims to museums and historic houses, wanted an old stove. For 40 years, he has cooked on an antique, coal-fired Glenwood at his house in Vermont. He turned to David Erickson, who meticulously restores antique stoves in his Littleton workshop to find one for this Lynn kitchen. 
Read more...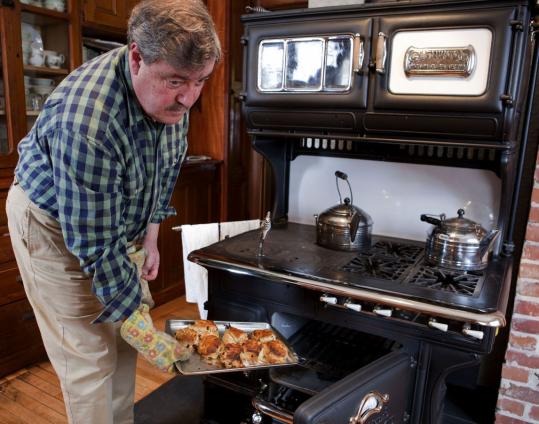 Kayana Szymczak for The Boston Globe

Old House Journal - Creating a New Old Kitchen

By OHJ Editorial Staff

March/ April 2009

For Bruce and Melanie Rosenbaum, it all started with the stove. The salvage-loving couple was on one of their regular pilgrimages to the Brimfield Antique Show in central Massachusetts when they met David Erickson of Erickson's Antique Stoves. He sold them a decorative potbelly stove from the late 1800s (which now sits on a hearth in the revamped kitchen of their 1901 transitional Victorian), and also mentioned another appliance he was restoring: a center-firebox, double-oven Defiance wood-burning stove from the J.L. Mott Company.

​"It was a really deluxe model for its day," Erickson notes. As soon as Bruce and Melanie saw it, they were sold. 
Read more...